If you use subpar materials for your client it can completely compromise the job.
In order to ensure you are buying the best quality eavestrough for your projects, we've put together this short guide that will help you identify what you should be looking for.
Understanding the Supplier Specs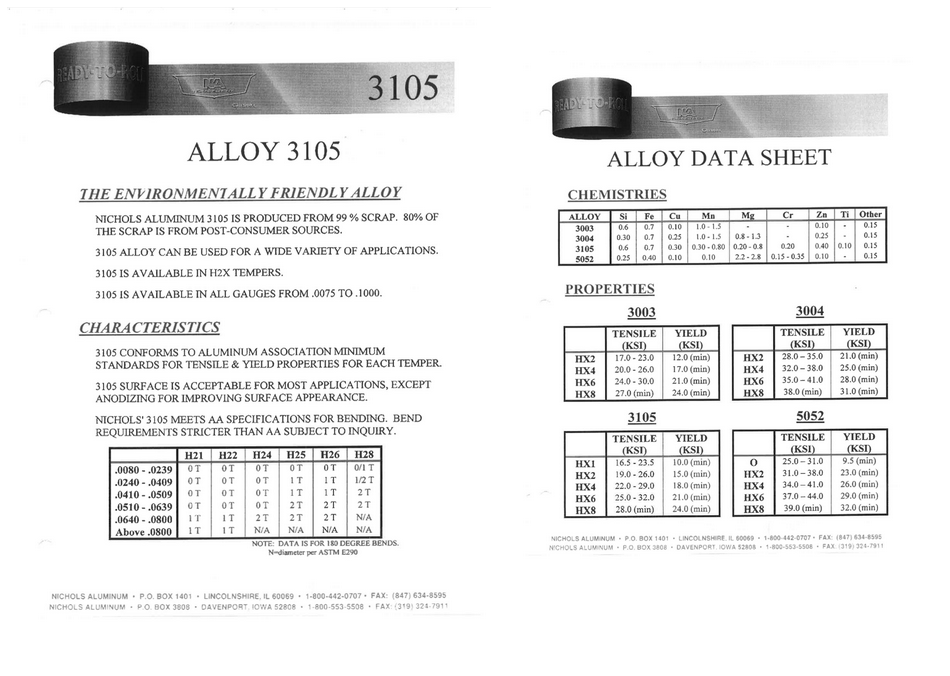 In order to understand the quality of the material you are buying, we highly recommend you get a hold of the supplier specs; this is a sheet that goes into detail about the products and what they contain.
The above example is for our aluminum eavestrough. As you can see we've broken it down into four categories: The environmentally friendly alloy, characteristics, chemistries, and properties.
But to truly understand what this means and why it matters to you as a contractor, let's dive a little deeper into the specs.
What To Look for In Metal Properties
When it comes to aluminum it's important that you look for more zinc because it will allow the eavestrough to expand and stay flexible.
Zinc is an incredibly common metal and is considered to be one of the most sustainable metals. This is due to its low melting point which makes it easier to convert into recyclable material.
If you are looking for an environmentally friendly alloy, ensure that it has at least 0.10% zinc or more depending on the thickness.
| | |
| --- | --- |
| ALLOY | ZINC % |
| 3003 | 0.10 |
| 3004 | 0.25 |
| 3105 | 0.40 |
| 5052 | 0.10 |
Thickness of Aluminium
Aluminum gutters are available in different thicknesses and gauges.
The most common thickness is between .025 and .027. This thickness is great for most residential homes and can be made more durable by installing brackets to keep the eavestrough to the home
The thicker version is a .032 gauge. This thicker version is recommended for homes or businesses that have steel roofs and issues with snow slides.
Overall, aluminum is affordable and has great durability in the winter. However, keep in mind that aluminum is not as structurally sound as other materials and can be dented or misshapen in certain situations.
So when you're looking for good quality eavestrough, ensure that you are buying the proper thickness for the job.
Buy Quality Eavestrough from a Trusted Source
It's important to keep in mind that some alloy mixture of metals and thicknesses can be offered at cheaper prices, but don't let that fool you.
One piece of aluminum eavestrough is not the same as another piece from another supplier, in fact, the thicknesses are different as well as the structural elements.
We recommend that you get hold of the supplier's guide to truly understand what is in the eavestrough that you're buying as well as the reputation of the supplier you are purchasing from.
—
If you're looking for Canadian-made eavestrough and eavestrough products in aluminum, copper or steel — as well as soffit and fascia. — then check out our product list.
Interested in learning about the proper precautions you should take before you install eavestrough? Check out our Buyer's Guide for Contractors.